Welcome to JING!
The JING Institute of Chinese Martial Arts & Culture is a school of classical Chinese treasures: we teach traditional and authentic Chinese Martial Arts, Chinese Culture, and Chinese Language. More specifically, we offer instruction in:
Authentic Chinese Martial Arts




Meditation and Qigong (Chi Gong) to heal your body and expand your consciousness.

the JING Cultural Series to experience different and wonderful facets of Asian Culture right here in San Diego.

the JING After-School Program,
focused on developing children's minds through learning Chinese Language, and developing their growing bodies through Chinese Kung Fu (Wushu)! Pick-up available from most Scripps Ranch schools!
We have an extensive weekly class Schedule that we hope will fit your lifestyle.
I know what I want.
Now what do I do?
Call Jing Jing at 858-578-8267 or email info@JINGinstitute.com and schedule your first trial class at JING.


Check our Locations and Directions and drive over!
Let the JING Institute of Chinese Martial Arts & Culture share these ancient Chinese treasures with you and make your life more interesting and enjoyable -- Begin a journey of Health and Happiness at JING!
Call 858.578.8267 to
talk to an instructor and schedule your first class!
More About JING:
JING Kids After-School Program
Do your kids need an After-School Program?

Do you want your children to be safe, happy, and learning competitive skills, like Chinese language, while you work?

Would you like us to pick them up from school for you?
If Yes, then JING Kids After-School can help you!
Please visit our JING Kids site for more information, or call 858.578.8267 or email info@JINGinstitute.comom to enroll your child!
JING Martial Arts
The JING Institute teaches Wushu, Bagua, San Shou, Wing Chun, and Taiji in San Diego. You may also know these arts as Kung Fu, Shaolin, Chinese Karate, Pa Kua, Sansoo, Chinese Sparring, Ving Tsun, Tai Chi, and T'ai Chi. We also house Bujinkan Taka-Seigi Dojo, the Samurai & Ninja Arts school in San Diego! Click on What We Teach for more information, or read below and then click!
Meditation (and other mindfulness) at JING
The JING Institute offers various forms of meditation and Qigong at our school in Scripps Ranch. Zazen, which is Zen Buddhist Sitting Meditation, is taught every Sunday morning at 8am. Taiji and Bagua and Wing Chun each teach their own style of Qigong, here practiced as Moving Meditation. Welcome to calming the body and mind at JING!
JING Culture
The JING Institute prides itself on being not just a martial arts school, but also a doorway into Asian Culture. In addition to the rich culture already embedded in our Chinese Martial Arts classes, JING also offers a Cultural Series exploring such topics as Chinese Calligraphy, Traditional Chinese Music, The Joy of Drinking Tea (and eating Dim Sum), Archery, History, Philosophy, and fun field trips to visit Chinese Gardens and the Terra Cotta Warriors. Welcome!

Our Instructors
The JING Institute started as a family school and continues to be a family school today. Our instructors are carefully selected by our Headmaster, Siu-Fong Evans; her daughter and Chief Tai Chi Instructor Lui Guojing Evans (Jing Jing); and Jing Jing's husband and Chief Kung Fu / Wushu Instructor Christopher Mendoza.
Each instructor is thoroughly trained in our Leadership Development Program, exclusive to the JING Institute, to ensure that you receive the finest instruction possible in your martial art. You will have a regular instructor who is responsible for your progress, and periodically have lessons with other instructors so that you can learn your art from multiple perspectives.
Private Lessons in Kung Fu / Wushu / Tai Chi
During one-on-one private lessons, you will received personalized instruction to help you achieve your goals at your pace.
Group Lessons in Kung Fu / Wushu / Tai Chi / Wing Chun
Group lessons give you the great opportunity to meet and do martial arts with a bright and motivating group of similarly-driven people; practice and drill good basics in a fun and enthusiastic atmosphere; and learn about the different styles of martial arts at the JING Institute!
Separate group lessons are held for different levels. Take the class appropriate for you, then stay and see what's to come!
Additionally:
You can and should take a Free Trial Class.
JING is the only Chinese Martial Arts school in San Diego that is certified by the Chinese Wushu Association and the USA Kungfu Wushu Federation.
Our extensive Schedule fits practically all lifestyles.
We are in a large, clean, comfortable facility that will be easy on your eyes, with nice, thick floor mats that will be easy on your joints.
JING classes follow a driving curriculum to ensure that you keep learning.
JING is the only Chinese Martial Arts school in San Diego to follow an authentic Kung Fu / Wushu learning system. If you have questions about "Black Belt in Kung Fu / Wushu," please click here.
We have excellent Samurai & Ninja Arts:

Bujinkan Taka-Seigi Dojo | San Diego, CA is part of Bujinkan (House of Divine Warriors), training under Masaaki Hatsumi, 34th Soke (grandmaster) of Togakure Ryu Ninpo.
Bujinkan is unique. It is not a sport or just a fighting art but is a true martial art.
It incorporates ancient Japanese warrior traditions, and is a full system of self-protection and self-defense, involving nine schools of combat.
Bujinkan Taka-Seigi Dojo | San Diego at JING is where you can study a true warrior tradition and learn martial skills that will help you defend yourself and your family.

JING Institute of Chinese Martial Arts teaches all the major internal styles of Tai Chi in San Diego (Yang, Chen, Wu, & Sun style Tai Chi, compulsory Tai Chi forms, xingyi, bagua, and qigong) and all the external styles of Kung Fu / Wushu in San Diego (traditional, contemporary, compulsory, Wing Chun, sparring, self defense, weapons, animal forms). If you want the ultimate in kicking, fighting, punching, and moving, come to JING!
JING also trains students for the Asian Games, the Traditional Wushu Tournament, and the World Wushu Championships. JING Institute is the only school in San Diego whose Kung Fu / Wushu, Tai Chi, Xingyi, and Bagua are certified by the USA Kungfu Wushu Federation and the Chinese Wushu Association!
Students from other San Diego Kung Fu / Wushu schools have come to watch our classes, talk to us, and take our classes. They tell us that JING students progress much faster and better (click here) than they ever did at their old schools - in just a few months of practice, our students have better basics and cleaner forms than students who have been learning elsewhere for much longer!
Just look at us!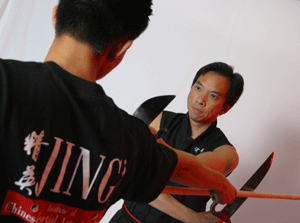 Rene Ng using Butterfly Knives in
Wing Chun Kung Fu:
soft, sensitive, and scientific; gentle, efficient, and deadly.