San Diego Martial Arts, Gongfu, Wushu, Tai Chi Schools - JING is the best! San Diego Martial Arts instructors - JING has the professional Jiangsu Wushu Team Champion and the Queen and Princess of Taiji. San Diego Martial Arts environment - JING is the friendliest and "most beautiful" San Diego Chinese Martial Arts/Gongfu school. In San Diego, no other Martial Arts school can give you the Gongfu & Taiji quality that will qualify you to the World Wushu Championships & the 2008 Olympics. JING also has the best natural healing arts for your body and spirit. JING Institute of Chinese Martial Arts is the best in San Diego.
Performance for the "Myths and Legends:
New Tang Dynasty TV's 2006 Chinese New Year Global Gala: San Diego"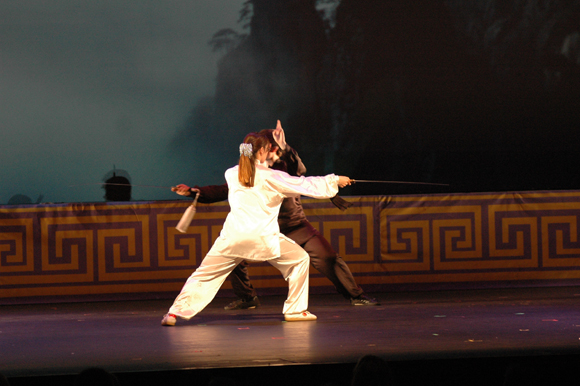 Jing Jing and Andrew started the Martial Arts show off with Taiji,
performed to the classic Chinese song "Chun Jiang Hua Yue Ye" as arranged by Siu-Fong Evans and played on the guzheng by Jing Jing.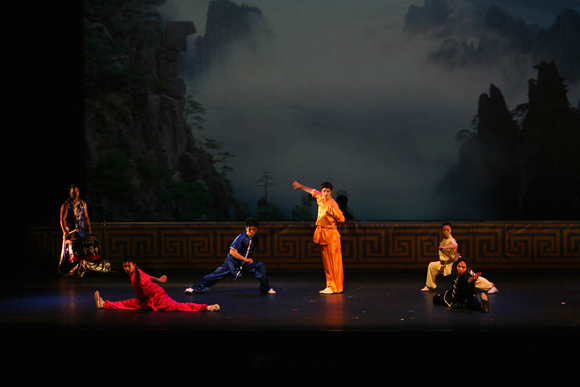 David Adams, Marvin Lee, Michael Trieu, Emily Hsu, and Micah Miller performed a lively wushu group set.
That's Frankie Taitingfong in the back corner, on drums. He also tumbled/flipped.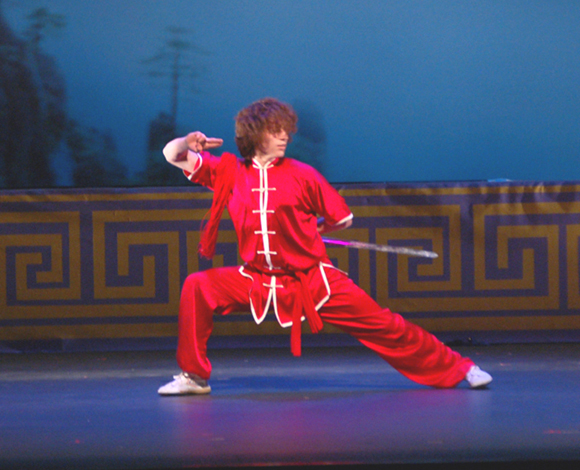 Wesley Gonzales doing a solo Long-Tassle Sword performance.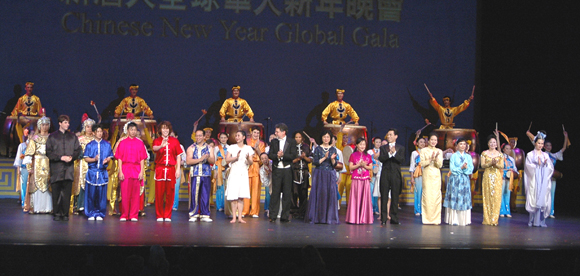 All of us at the end, waving at the audience!



Performance for the China National Holiday on September 19, 2004 at the
Poway Performing Arts Center: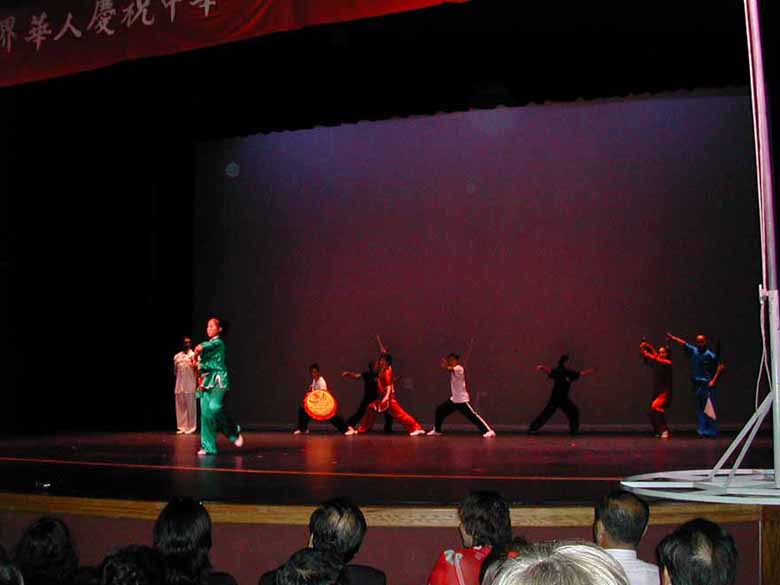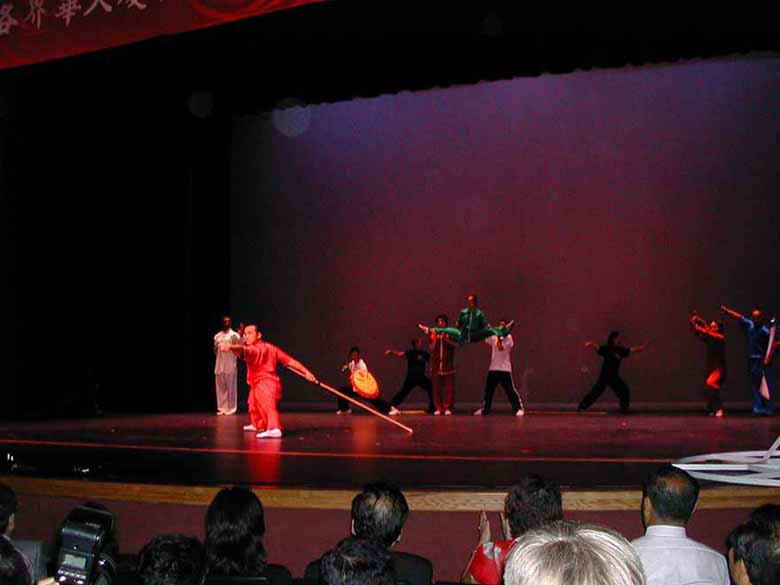 The publisher of WE CHINESE Magazine commented to Siu-Fong Evans that JING's Martial Arts performance on 9/19/04 was elegant, powerful, and "WELL DONE!"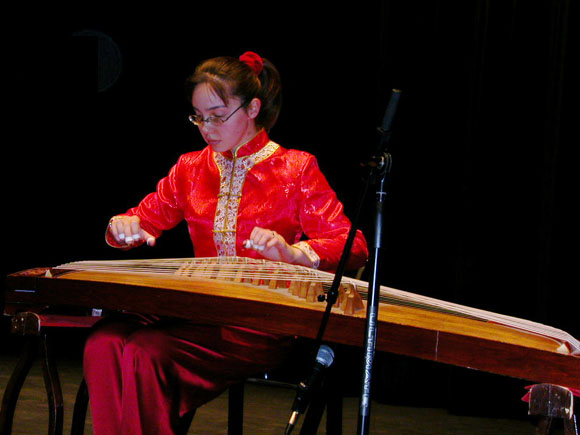 Jing Jing at the 2004 Museum of Art Family Festival, playing GuZheng.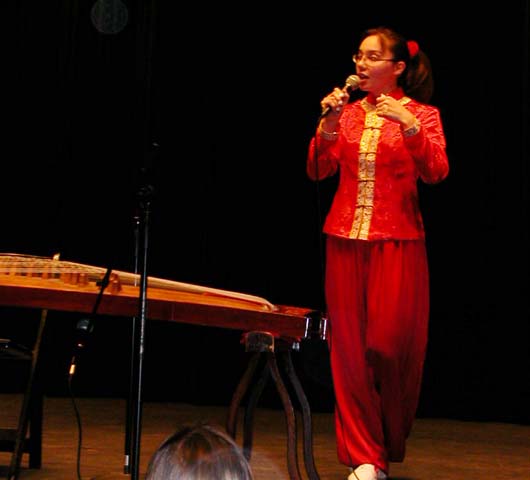 Jing Jing at same Festival, introducing JING.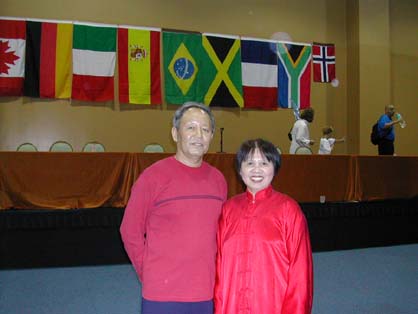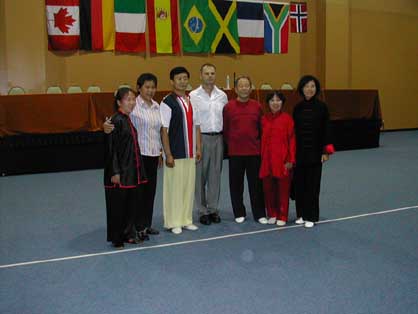 Siu-Fong and Master Li Deyin and friends in Orlando, 7/3 - 4/ 2004:



Theresa, Jing Jing, Andrew, and Wesley after tryouts for the US Team for the 1rst World Traditional Wushu Tournament. The tryouts were conveniently held at JING in Summer 2004.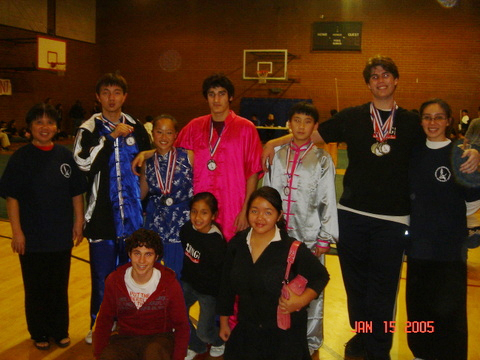 The extremely tired JING group after the S-Cal Wushu Tournament in Anaheim, CA. January 2005.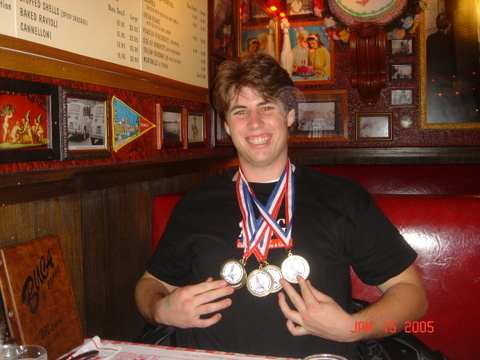 5 gold medals! Andrew Brown did pretty well at S-Cal, wouldn't you say?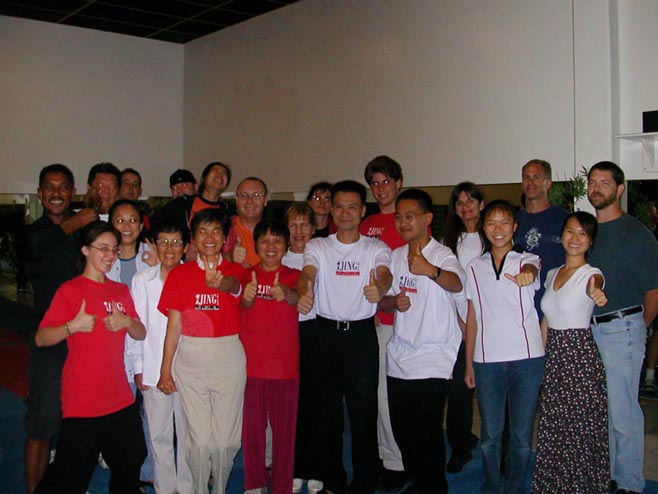 Seminar with Chen Si Tan (first row center) at JING Institute (8/22-23/2004)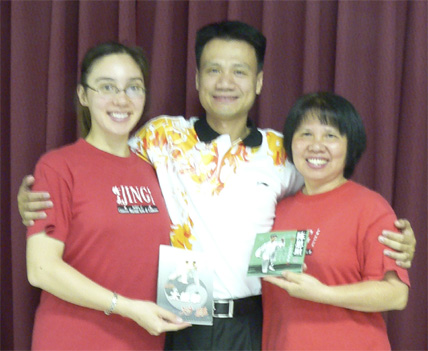 The world's most well-known Prince of Taiji in China Chen Sitan with Siu-Fong and Jing Jing at JING Institute in August 05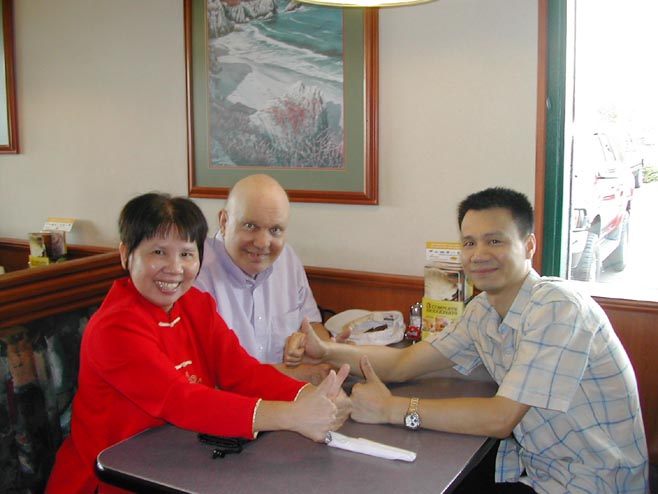 The World's "Prince of Taiji" Chen Sitan with Siu-Fong Evans (a student of Chen Sitan) and her husband Mike.
We respect each other and become good friends forever!
Do you know that Chen Sitan is an excellent singer too. I sincerely hope that he can become a professional singer with lots of VCD/DVD in the near future.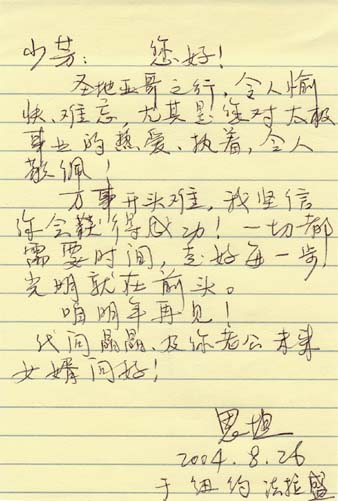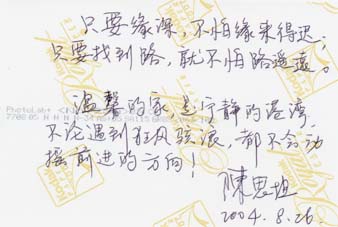 Chen Sitan's Chinese is very poetic, his calligraphy is elegant with strength. This is his notes to Siu-Fong.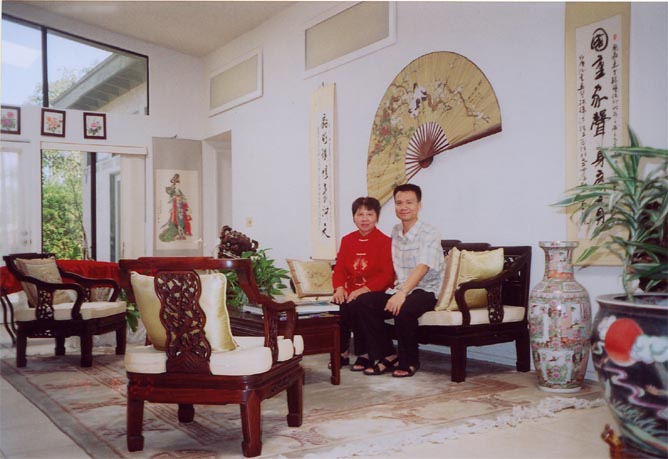 Chen Sitan at Siu-Fong's house in San Diego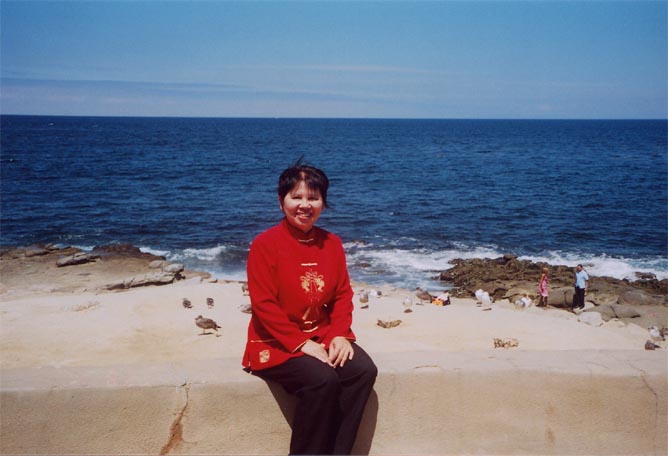 This picture is taken by Chen Sitan. He knows the art of photography well.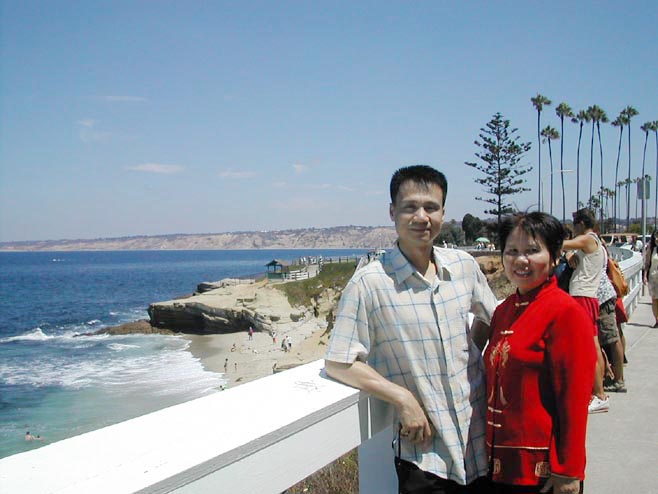 Chen Sitan and Siu-Fong in San Diego's beautiful La Jolla Cove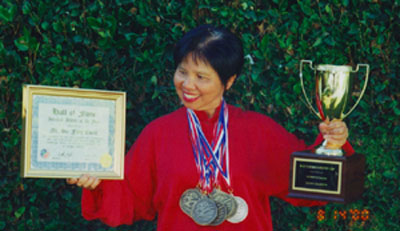 Siu-Fong Evans, Internal Athlete of the Year and
Grand Champion of Internal Forms, Baltimore, Maryland.
August 2000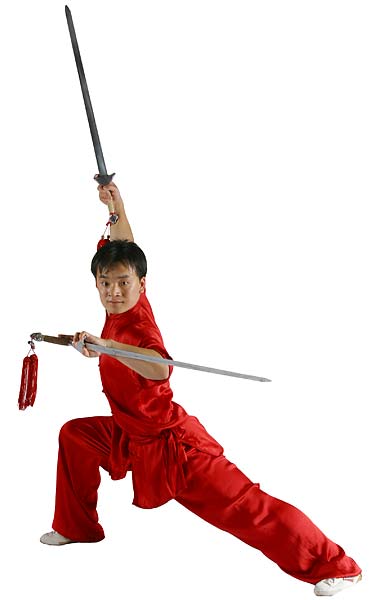 B.Y. Xu , the only professional wushu athlete in San Diego with the highest honor of a professional wushu athlete: Wuyingji Jianjiang. His power is unsurpassed. His speed is incredible. His form is perfect. His teaching is strict but friendly with the very good professional quality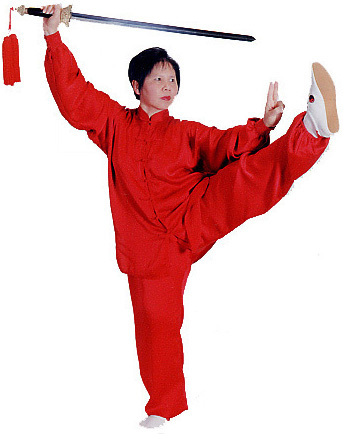 Siu-Fong Evans doing the Wudang Tai Chi Sword.
This picture made the front cover of "We Chinese" Magazine, November 2001.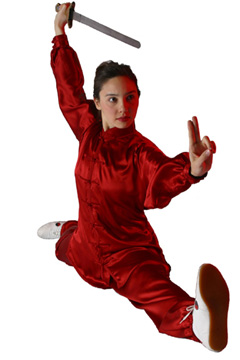 Jing Jing can do splits, too. Can you?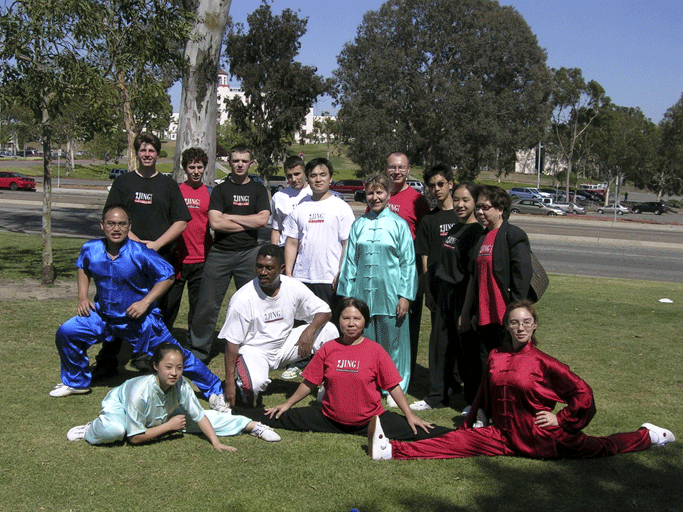 The JING performing group in Balboa Park for the Asian Pacific American Heritage on Sunday 5/9/04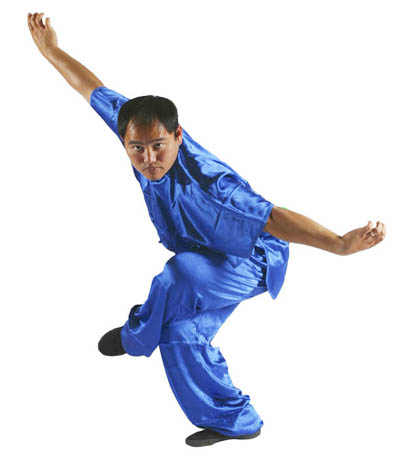 Chris is best at eagle claw!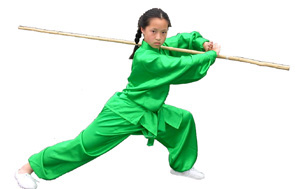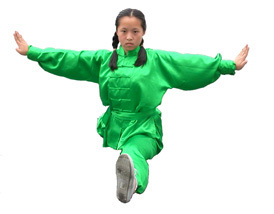 The best and youngest San Diego Martial Arts girl: Emily Hsu has learned wushu at JING for one year with no background. In July 2003, she competed in the USAWKF International Wushu Festival and Championships. Emily won 2 golds and one bronze in changchuan (long fist), sword and staff compulsory routines. She has been performing throughout San Diego and admired by all.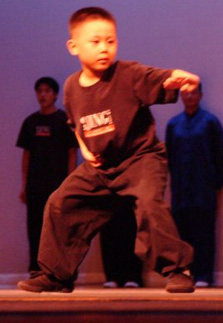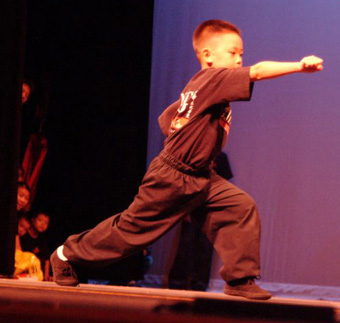 Christopher Phu, 6, performing at the China National Independence Day on 9/26/03 at Poway Performing Art Center's big stage.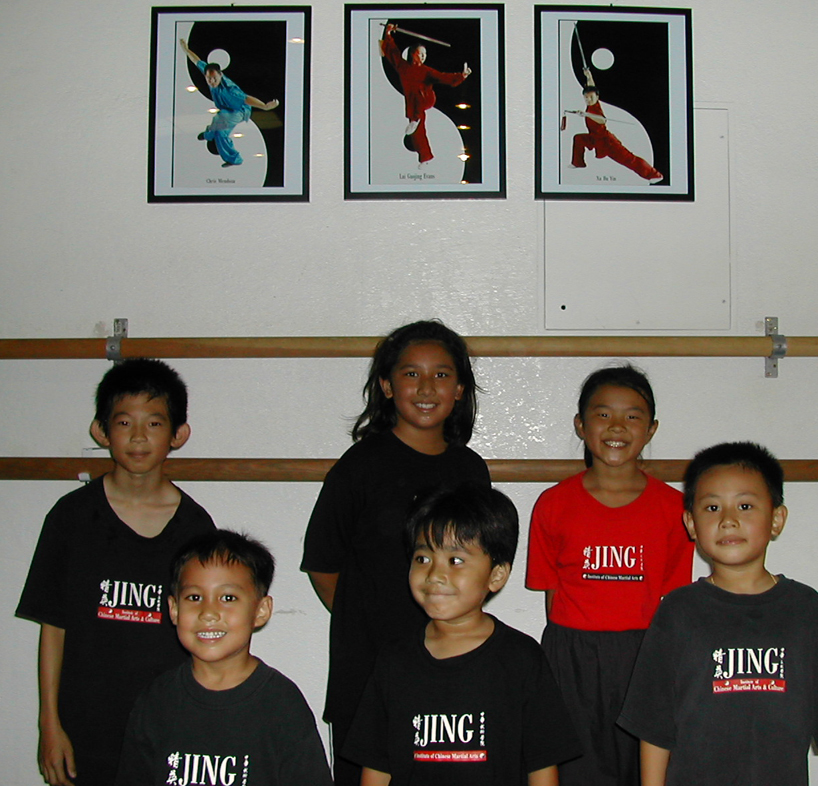 JING's little dragons. These children and their parents are happy with JING and JING's wushu coaches. We are a big Wushu family!
We hope that every one will be a "HERO" in the near future!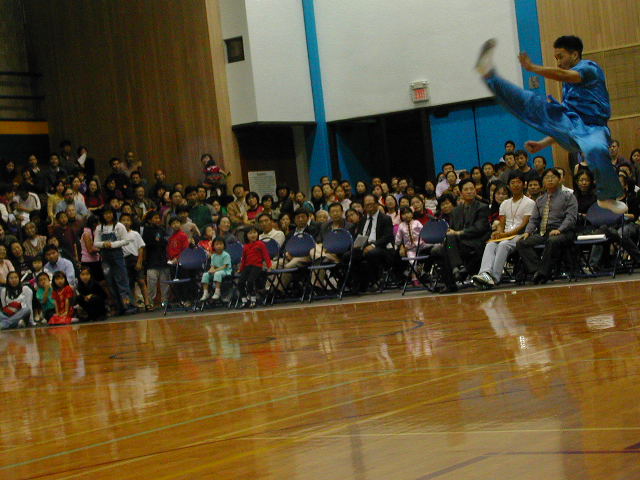 O-Yang Jie hao Lihai! (JING student Steve Oyoung can fly, too!)
JING celebrating 2002 Chinese New Year at UCSD.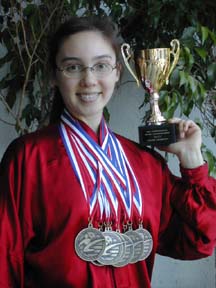 Jing Jing won her 8th grand championship in Virginia, 7/26/03. Now people call her "Princess of Taiji".
She was invited to perform on Master's Demo. Famous masters from China gave her high compliments.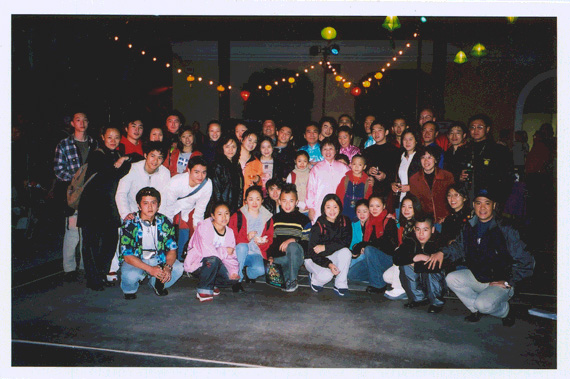 San Diego's JING Institute of Chinese Martial Arts' Performance Team with the Cirque du Soleil - Dralion acrobatic team, April 2002 at Del Mar, San Diego
We performed for Cirque de Soleil!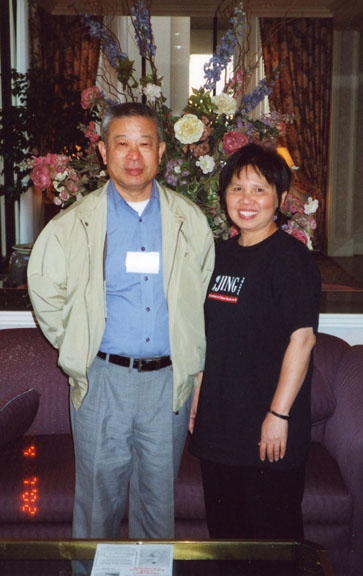 Famous movie star Jet Li's coach Wubin with Siu-Fong in Florida, April 02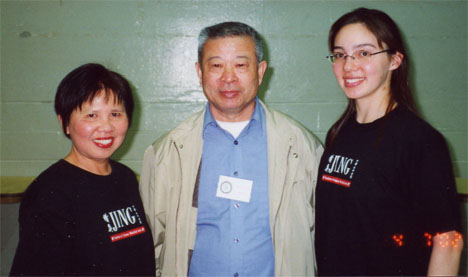 Siu-Fong Evans, Wu Bin, and Jing Jing.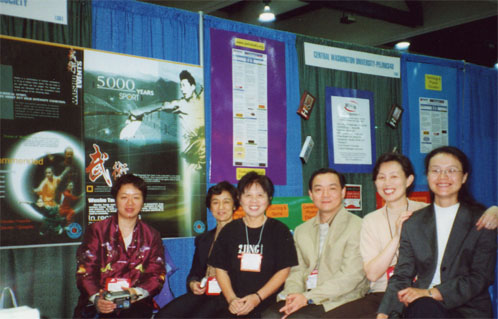 The Chinese Wushu Association delegation with Siu-Fong at the San Diego Convention Center, promoting Wushu for the 2008 Olympics in Beijing. We still have the 2008 Oympics promotional tape, if you would like to come by and see it.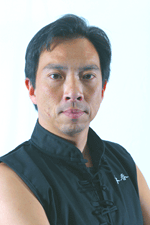 Master Rene Ng, one of the best Wing Chun instructors in the USA!




Master Rene Ng: Sparring / Self Defense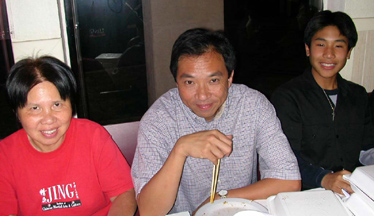 Master Rene Ng gracing us with his presence at a late dinner in April 2003 at Marvin's Dad's place, China Hut (great food on Commerce Ave)! Here shown with Siu-Fong and JING student Chris Livelo.





Master Rene Ng and his fans, perspective #1.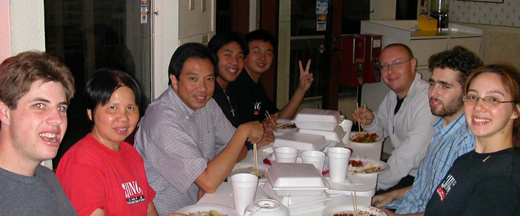 Master Rene Ng and his fans, perspective #2.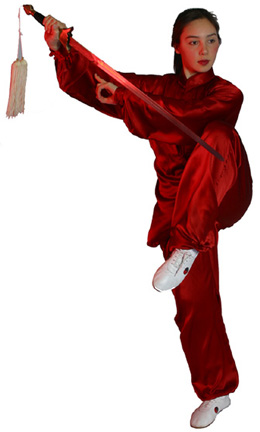 How do you like her posture here?
This picture made the front cover for the "Saigon Moi" Vietnamese Magazine.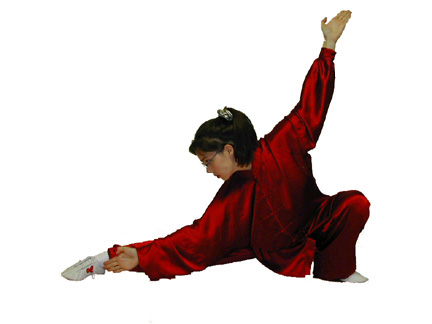 Jing Jing. Isn't she lovely? (Jing Jing writing now: Amazing what red silk can do for a girl!)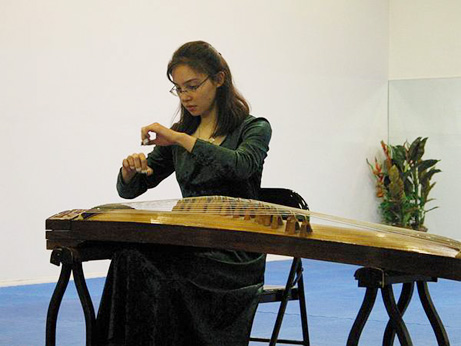 Jing Jing Evans performing the 21-Stringed Gu Zheng (Chinese Zither).
Jing Jing can teach you Taiji and Guzheng in three different languages. She was well trained in Beijing!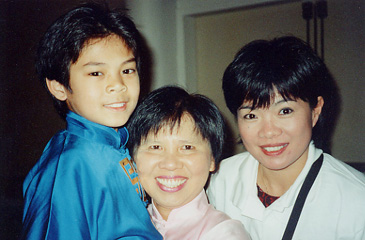 Siu-Fong with Hao ZhiHua (Beijing Wushu Team Champion) and her young star Jerry in 2001



Su Renfeng, a Chinese gold medalist and Siu-Fong wearing the blue judges' shirt in Florida, April 2002




All the GrandChampions in Florida, April 02
Left 4th: Jing Jing (in red), Chen Daoyun (the most admired wushu lady of our time), Nick Scrima (The Promotor), Chen Pui (is Awesome!).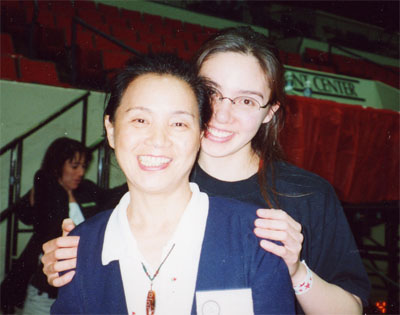 Chen Daoyun and Jing Jing. They are like mother and daughter :)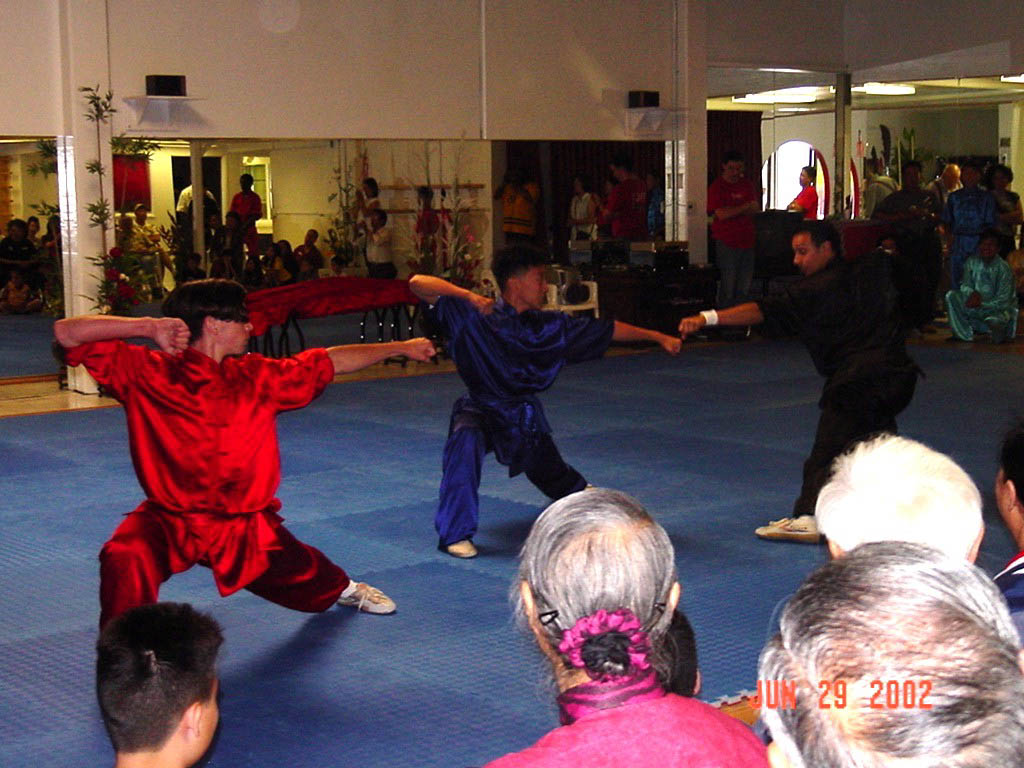 Party in June 2002. Chen Dao Yun's students doing a Duilian (fighting) performance.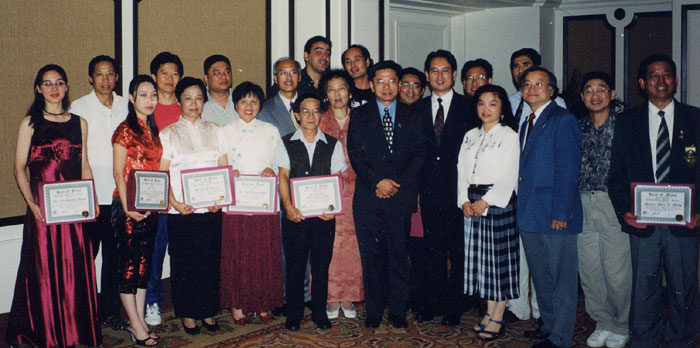 Siu-Fong and Jing Jing at the 2001 USA Wushu Kungfu Federation's Hall of Fame Banquet, August 2001.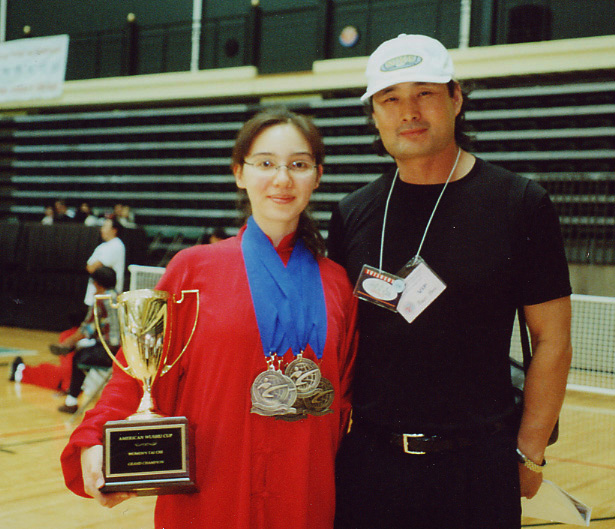 Lui Guojing Evans (Jing Jing) with Gao Xi'an, the famous martial artist/actor
from "Crouching Tiger, Hidden Dragon", August 2001.
Gao Xian loves Jing Jing's taiji.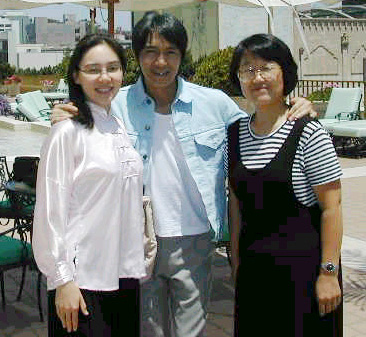 Jing Jing with famous Hong Kong movie star Zhou XingChi, leading actor in "Shaolin Soccer", and "We Chinese Magazine" Publisher Ma Ping
August 1, 2002, San Diego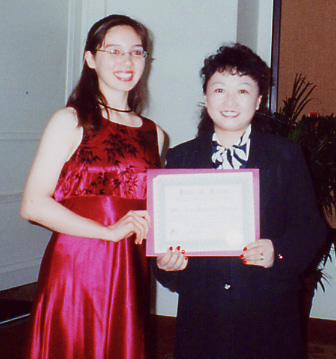 Lui Guojing Evans (left), awarded "Internal Athlete of the Year"
by Lu Xiaoling at the USA Wushu Kungfu Federation's Hall of Fame Banquet
Orlando, Florida. August 2001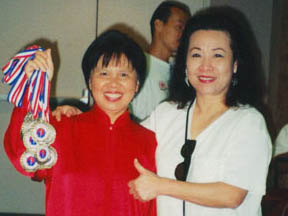 Siu-Fong and Lily Lau, June 2000. Lily Lau can't believe that Siu-Fong won 16 golds in one tournament, a record in internal martial arts history.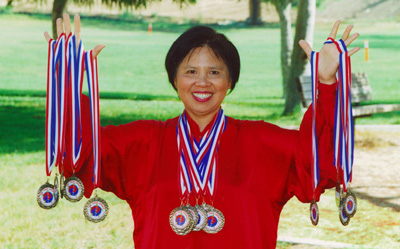 Siu-Fong Evans with SIXTEEN gold medals from Dallas! A new record in Taiji history
June 2000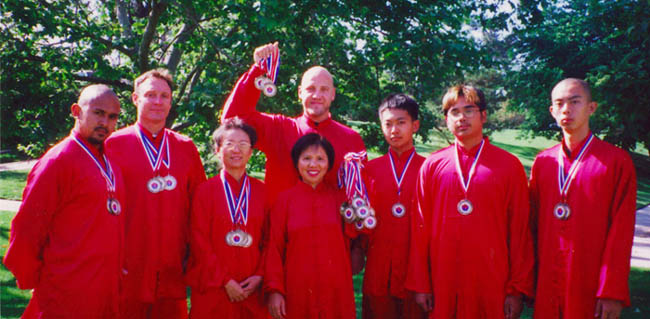 The San Diego Taiji and Qigong Association, home from Dallas, June 2000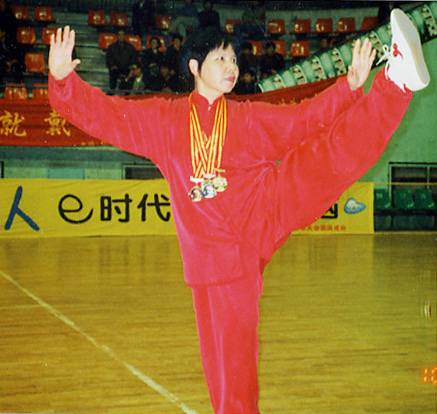 Siu-Fong won 2 gold, 1 silver, 1 bronze at Yongnian, China (birth-place of Yang Luchan). October 2000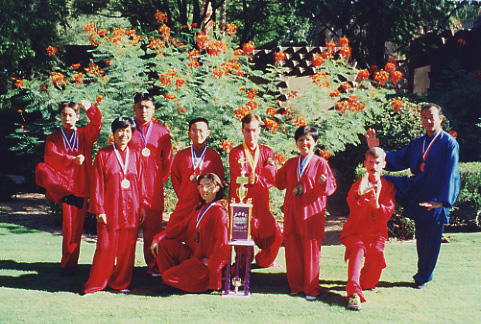 Siu-Fong and the SDTQA team in Phoenix, Arizona, September 2000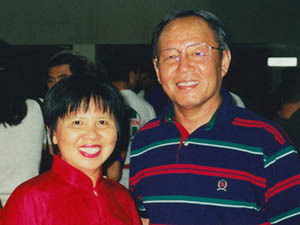 Siu-Fong and her Master Li Deyin, July 2000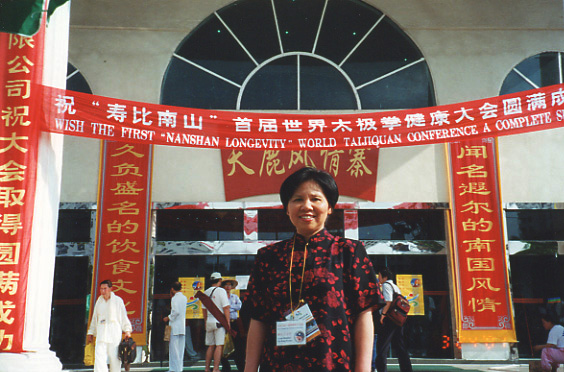 Siu-Fong at the 2001 First World Taijiquan and Health Conference in SanYa, Hainan Island, China, March 2001.
Competing against the best Chinese and athletes from around the world, Siu-Fong won two gold medals in Sun Style and Wudang Tai Chi sword (Max 2 events allowed).



JING's Wushu student Tracy bridger (a former dancer) and Siu-Fong Evans enjoy the birthday at the same time at JING!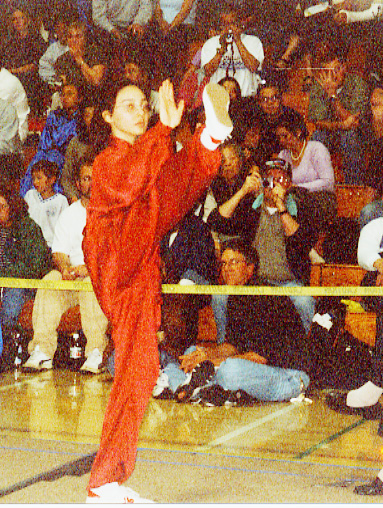 Lui Guojing Evans (Jing Jing) in competition at UC Berkeley. Can you hold your leg up high (kong jiao) like her?
April 2001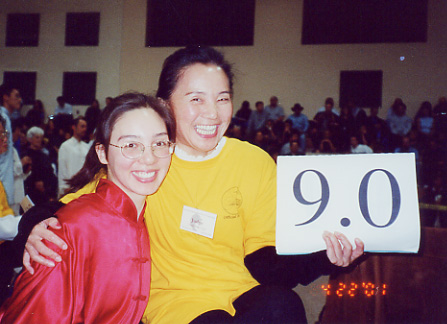 Chen Dao Yun joking with Jing Jing at UC Berkeley.
April 2001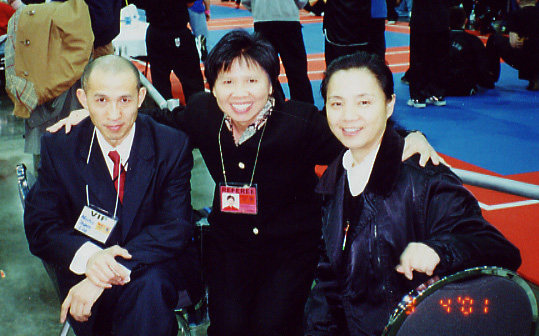 Siu-Fong with Shawn Liu and Chen Dao Yun
Columbus, Ohio, March 2001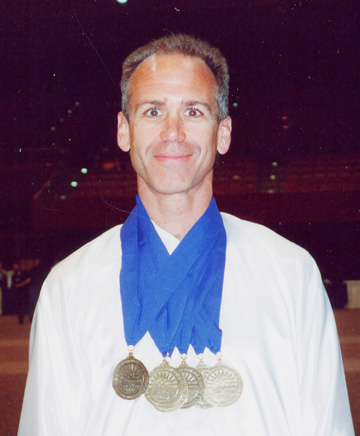 Siu-Fong's dedicated student Jim Healy, an editor at the San Diego Union-Tribune.
Jim, now a Taiji multi-gold medalist (also an instructor in Tae Kwon Do) has learned
all the 4 major styles' Compulsory Routines (Yang, Chen, Wu & Sun Styles) from Siu-Fong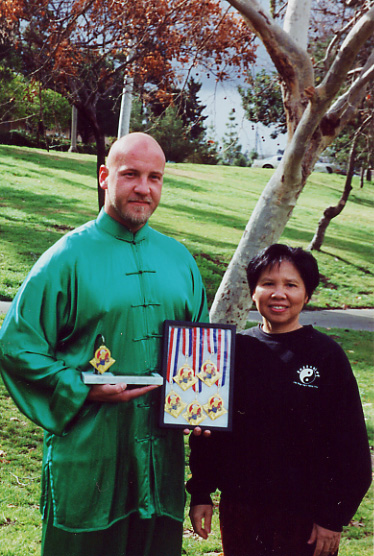 Siu-Fong and her student Toby Cooley (4th degree black belt),
Grand Champion of the Arnold Battle of Columbus, Ohio.
March 2001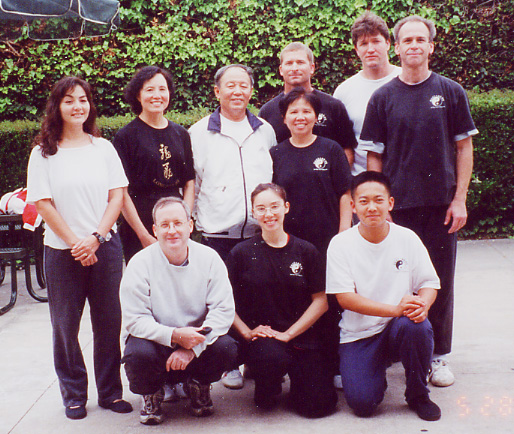 Li Deyin with some of his Chen Style seminar students in San Diego.
May 2001




Lui Guojing Evans (Jing Jing), winner of the Internal Grand Champion at Taiji Legacy in Dallas, Texas.
June 2001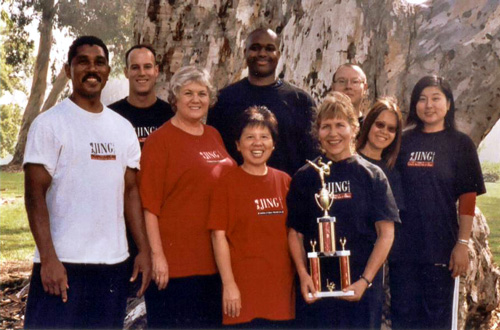 Anka Lara Eaton, a dedicated student of Siu-Fong
won the Taiji Grand Champion Trophy in San Diego, October 2003.

next page